Recently on ebay was a pint size Potter and Bodine jar. Notable was the incredibly clean condition with no damage at all. Everyone has seen the quarts and perhaps a half gallon, but the pints are quite rare. Just 17 bids ran the auction up to $3850 at close on November 15th.
It measures just 5-1/2″ tall, has a glass ball pontil base and, judging from the description, was a fresh discovery…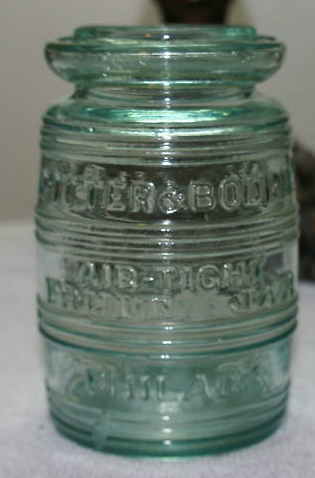 ---
Delmarva Auctioneers and Appraisers of Delaware kicks off their fourteenth auction today consisting of 114 lots.  The auction comprises early glass, Andrew Wyeth prints, an extensive collection of antiques reference books, select antique bottles and flasks and several stoneware lots.
The auction will close Friday, December 19th, 2009
---
A Lowenbrau beer bottle recovered from the 1937 wreck of the Hindenburg zeppelin will be auctioned by Henry Aldridge and Son of London today.
From their auction catalog:
Lot 206. LZ129 Hindenburg memorabilia: An extremely rare bottle of Lowenbrau Beer recovered from the wreck site of the Z129 Hindenburg, May 6th 1937 when it crashed at Lakehurst Naval Air Station. It was recovered by local Fire Chief Leroy Smith of the Matawan Fire Department New Jersey, along with 5 others which he handed out to each of his colleagues. The whereabouts of all of these bottles with the exception of one is unknown. He presented one to the Lowenbrau brewery in 1977 where it remains to the present day. The example being offered for auction is sealed, with some of its original label and shows evidence of heat damage. This lot is sold with a provenance package which include correspondence from the Lowenbrau brewery regarding the bottle of beer donated to their Museum, press cuttings and signed copy of a letter of provenance and an account of how Fire Chief Smith came to acquire the bottle.
UPDATE – According to thisiswiltshire.co.uk, this lot sold for 10,810 including the 15% buyers premium.  That is approximately $18,078 US.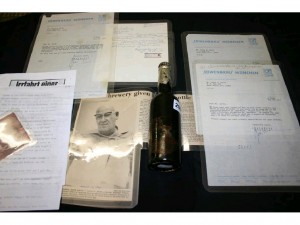 ABC News, the New York Post (article) and the BBC are reporting that this bottle may bring $4-8,000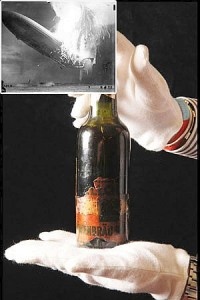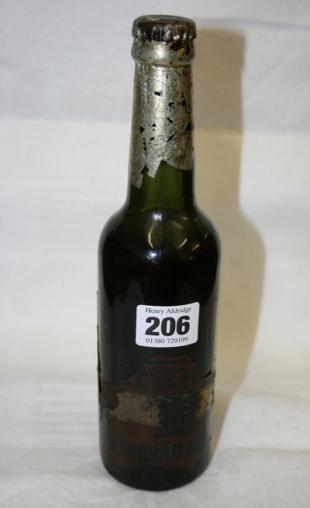 ---
Here is the one that everyone is bidding on.  Three days to go and there are already a whopping 29 bids.  The auction is currently at $1625.
From the auction description, "The S.C. Dispensary was the brainchild of Mr. Ben Tillman, govenor of SC. The dispensary started operation in Edgefield, S.C. in 1893. It was an unsuccessful business venture that was abolished in 1907."
View the auction via this link.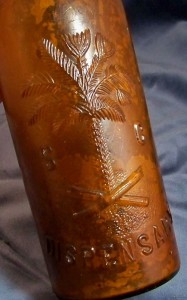 ---
Here is a classic early 19th century medicine bottle with unusual serifed embossed text. Marked "Dr. McMunn's Elixir of Opium" What a great photograph!
View Dr. McMunn's bottle at auction on ebay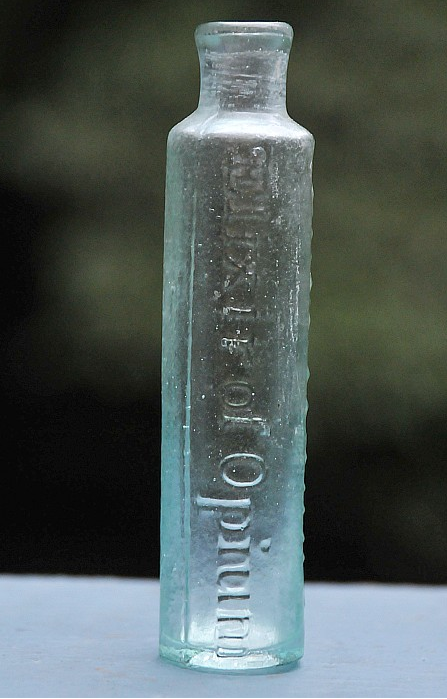 Update:
Another plain, smooth based Dr. McMunns Elixir of Opium bottle sold on ebay for a surprising price.  The auction closed at $54 on 01/24/10
Here's a link to that auction
Here is the picture for that auction – clear and crisp.  Quite the above average price for an average specimin!  That's the nature of auctions – some times the prices are average, some things die at auction and every once in a while two or more bidders drive a price up to unusually high numbers.

The Addicted
Caroline Rance tells the story of McMunn's Elixir and some who did not survive strong doses.
---
Glass Works Auctions big fall event comprises 375 lots with an substantial offering of historical flasks, rare soda bottles, pontil medicine bottles, bitters, fire grenades and much more.
Of special note is the rare California Fire Extinguisher in amber with embossed bear. It's one of the most desirable fire grenade bottles out there, and not surprisingly, it attained a high bid of $5,000 long before closing day.
Another very exiting bottle is the GXII-15 "Union" / Clasped Hands – Eagle with Banner / "E. Wormser & Co / Pittsburgh in a deep blue green color. Examples in unusual colors (besides aqua and amber) in Group 12 are unusual, and this one is just amazing. Several days before closing, the bidding had achieved $19,000.
Bidding closes Monday evening, October 19th.
---
Auction closes October 28, 2009
Auction # 88 includes an important and diversified grouping of bottles and portrait flasks plus other fine flasks from the pioneer collection of Warren C. Lane, Jr.
Highlights include: Kelly's Old Cabin Bitters, a fine selection of historical flasks including a GX Stoddard Flag flask, several colored pontiled medicines, and much more.
---
There are lots of great of great bottles in the upcoming American Bottles Auction #48 which closes Thursday, August 20th
Highlights include: Star Whiskey with applied seal and handle, FISH'S INFALIABLE HAIR RESTORATIVE in cobalt, blue ALMOND HAIR WASH W. HEARD (an unknown hair bottle), an ALPINE HAIR BALM C.A.P. MASON PROVIDENCE, RI. in brilliant olive, Clemen's Indian Tonic with full label, a green petal jar with pontil, a nice grouping of historical flasks, pitkin and midwestern pattern molded flasks, a GII-76a Concentric Ring Eagle flask (yes, a real one), some very fine barrels including an aqua Pocohantas and an unbelievable light yellow Bourbon Whiskey Bitters, a HP Herb Bitters in 7-up green, other figural bitters.  All in all a very fine offering of quality items.
---
American Bottle Auctions begins its next sale, #45, on August 8th. Bidding begins the 11th and closes on the 19th at 8PM.
The sale includes figured colognes, western soda bottles, part of the Bryan Grapentine hutch soda collection, a few mineral waters, a rare Lupton Self Sealer canning jar dated May, 29, 1866, a Stoddar cloverleaf jar in amber, several barrel bitters, fire grenades and a yellow National Bitters. Also a good selection of common historical flasks and quality western whiskeys.
---
30 bids pushed the closing price on an amber Van Vliet jar to $21,978.98 – this ebay bottle auction closed July 19th. You have to love it when a person lists something as rare as this with the description ""brown glass" – obviously it was found by someone who knows nothing of bottles and jars. Guess they got a surprise at that closing price!
Check out this auction yourself at ebay.com
---