American Glass Gallery's upcoming Auction #31 will feature a rare aqua pontil medicine "Dr. J. Doughty's Celebrated Grave Robber" along with other select bitters and medicine bottles. A total of 280 lots will be offered. Bidding begins on March 22nd and will end Wednesday evening, March 30th.
The Grave Robber bottle is known to collectors as an extremely rare item. The same Dr. Doughty sold a medication in a smaller bottle marked simply "J.D. Doughty / Cincinnati"
The words "grave robber" may be unique to this bottle – a remedy for death is an odd twist on the 18th century practice of surgeons who sought out fresh bodies for dissections.  See the fascinating and gruesome book, "The Knife Man" by Wendy Moore.
More information on this auction can be found on the auctioneer's website at https://www.americanglassgallery.com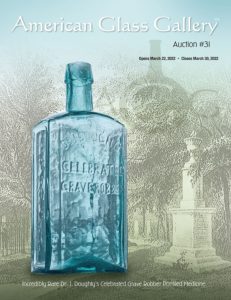 ---
It's clear.
It's machine-made.
It does not even appear to have any embossing.
Without its label, this bottle would not even fetch a nickel to any sensible collector. However, some found it irresistibly rare and exciting enough to drive the bidding at eBay.com to $5,600. There were 18 bids and numerous bidders hashing it out until the final moments of the auction.
By way of comparison, the seller had posted quite a few other similar pre-Prohibition whiskey bottles with labels – an attractive grouping – and no other fetched more than about $100. That, in this author's mind, is a typical sum for such bottles.
Guess this Mammouth Cave Whiskey is a good (and rare) one!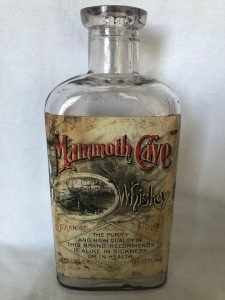 ---
A rare Wm Bodmann cathedral pickle bottle was recently discovered by pickers in Virginia. Auctioned by Mebane Auctions in North Carolina, the perfect condition example hammered down at $3400, not including commission. The 11.5 inch tall jar which has an open pontil base was described as free of chips cracks or damage after close inspection. However, there did appear to be overall interior stain.
Previously, American Bottle Auctions in California featured a similar if not identical example which closed at $9500.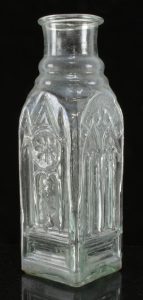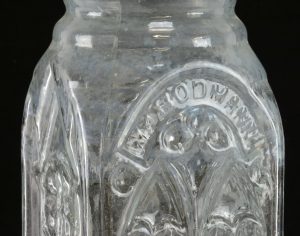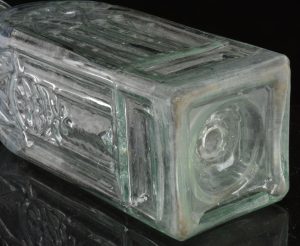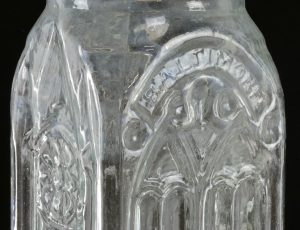 ---
A quart Mason's Patent 1858 canning jar passed the $5000 mark at auction recently on eBay.com  The jar, in perfect condition in a medium but rich blue color came from an estate auction.  The seller thought it might be a 1970s reproduction.  Despite the vague description, collectors quickly realized the jar, with its ground lid, was authentic.
A total of 79 bids brought the price to $5710 at closing.  View the auction here.
The beautiful and unusual blue color set this jar apart from the sea of common aqua jars.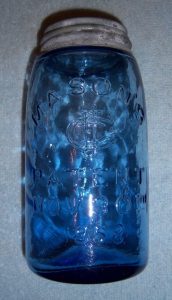 ---
It is not often that such a great assembly of rare bitters and whiskey bottles end up in the same room.  A collector needs to spend decades putting together a top-shelf collection.  Bob Ferraro did just that, putting together a grouping of great bottles, many of which are rarely available for sale.
Glassworks Auctions recently sold the Ferraro collection in a three-part auction, the final section closing on January 9th.  A total of 141 lots racked up a total of $482,305 not including the auction house buyer's premium.
Bitters bottles comprised the top three lots.
Part 1 – Lot 4: A Crow's Celebrated Tonic Bitters, thought to be the only known example – $20,000
Part 2 – Lot 82: Saphire blue W. Wolf Pittsburg barrel.  One of two known examples. – $20,000
Part 3 – Lot 114: People's Favorite Bitters barrel with diagonal rings.  This example, with a great provenance, is thought to be the best of the 3 or 4 known.  It closed at $30,000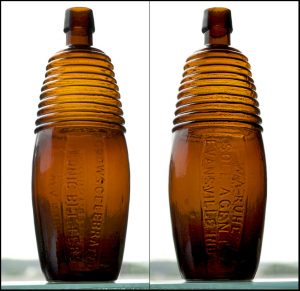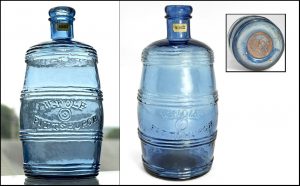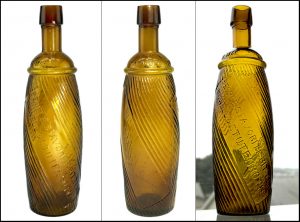 One could go on endlessly about the quality of many lots in this sale.  A stunning brilliant yellow olive figural Fish Bitters with Carlyn Ring provenance swam away at $5000. An authentic, original E.G. Booz cabin whiskey bottle brought a very strong $4750.
There were several dozen barrel bitters in total, many in rare and unusual colors. Lot 50, a Bourbon Whiskey Bitters described as a light pinkish topaz closed at $4250. A Roback's Stomach Bitters in a highly unusual and rare olive green coloration undoubtedly say strong bidding, ending at $13,000. However, perhaps the barrel highlight of the sale was the Highland Bitters and Scotch Tonic of lot 107. In a rare and unusual deep but translucent olive green, this barrel rolled up to a $13,000 closing price.  The 13,000 dollar mark could represent a record or near-record price for a barrel bitters.
Lot 114, the Peoples Favorite Bitters, is an extremely rare barrel mold with diagonal ribs on the body reminiscent of the George Eagle soda bottle. It is an ex. Carlyn Ring bottle and its provenance helped drive it up to a closing price of $30,000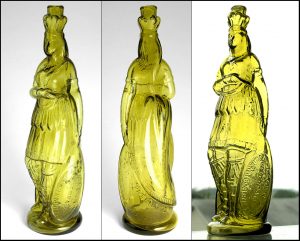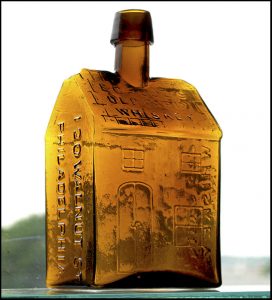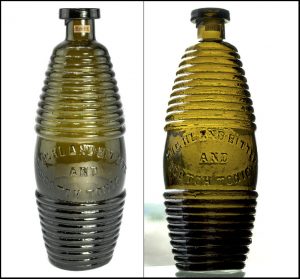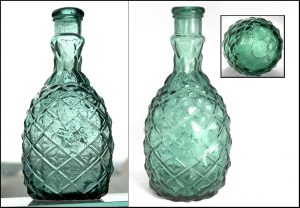 Prices Realized Lists
We captured the Ferraro prices realized lists from all three parts of the sale after bidding and callbacks had ended, and have posted these here on the site in PDF format.  Note that the prices do not reflect the 15-18% buyer's premium.
---
Applied seal 19th century American bottles are not all that common. Add a label and a ground stopper to the list of features and one comes up with a very short list of possibilities.
Recently closed on ebay was an auction for a 12-1/2″ tall blue-green demijohn bottle bearing an applied seal marked "THOS. H. JACOBS & CO." The bottle also retained what appears to be its original label, black print on a red background from the same company. Collectors are no doubt grateful to Mr. Jacobs for including the date 1844 on that label, allowing us to accurately date the bottle. Adding even greater amazement to the bottle is the intact ground stopper.
The seller described the bottle as having a body of 5 inches in diameter. One photo shows a large pontil scar on the base, consistent with glass blowing techniques used in the age displayed on the label.
The bottle sold for $2425.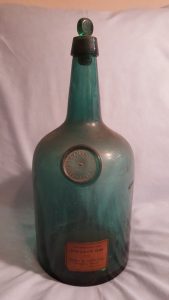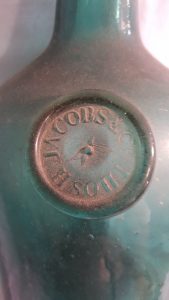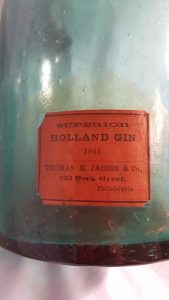 Also at auction this week at Glassworks Auctions is a nearly identical Jacobs bottle except it is in aqua. Same ground stopper. Same pontil scarred base. The catalog describes the seal as "THOMAS JACOBS & CO." (without the middle H). It is hard to see the exact seal marking on the single photo posted on the auction but it seems the middle initial H. may be present in the picture. The embossing on the seal may in fact be the same but is mis-cataloged. Glassworks describes the height as 11-1/2″. Once again we see a similar label with similar markings. Note the different address here which is 233 Dock Street.
At the time of this writing, no bid had been placed on this lot. The opening bid is $200.
The Glassworks sale closes January 30th at 10PM Eastern Time.
Auction link: http://www.absenteeauctions.com/glassworks_1/cgi-bin/CATALL.CGI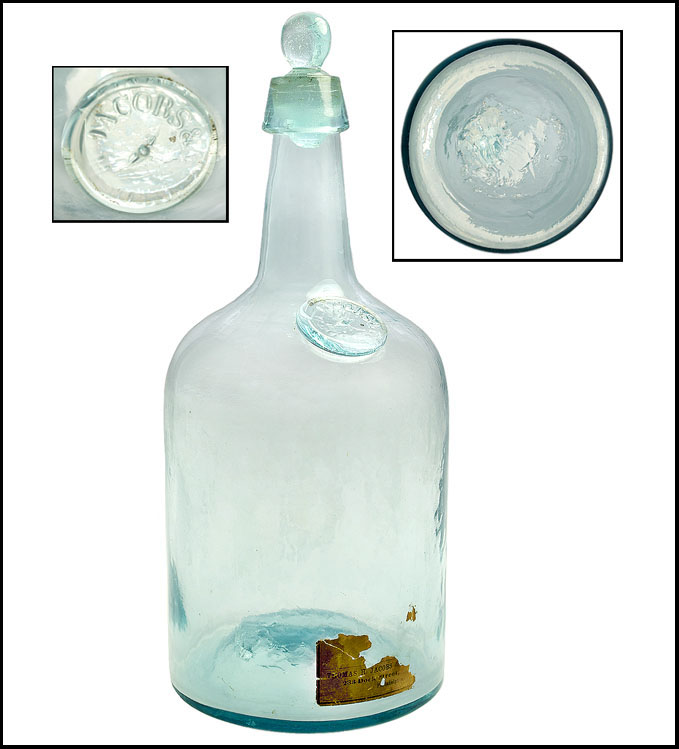 ---
New theme rolled out today which freshens the look and provides a much improved experience for mobile viewers.
Revised content throughout.
New searches, revised searches. Hope you find it useful.
Comments welcomed.
---
An amber coffin-shaped poison bottle, with overall patterned hobnail decoration, recently fetched $6766.00 on ebay. Apparently the seller, who had listed a large number of bottles for auction, was unaware of its value. As is often the case, just three individuals carried the bidding over $1000.
View the auction results here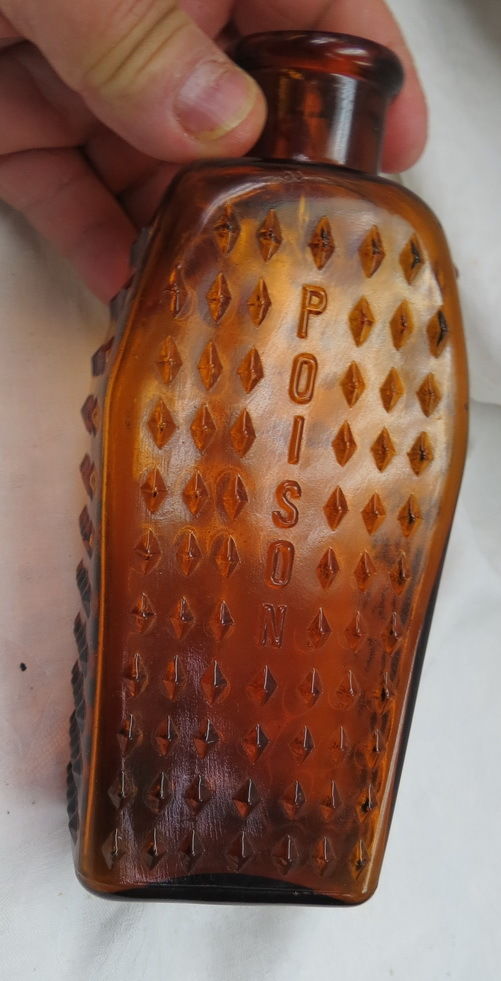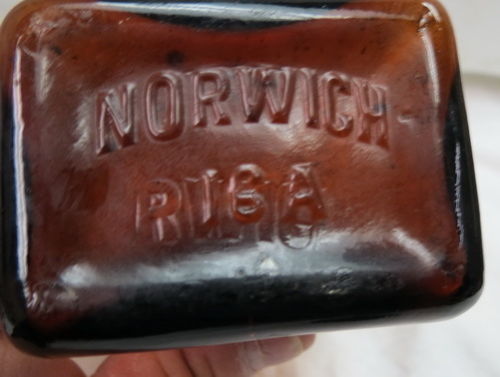 ---
UPDATE: This is a new auction record for an (empty) antique bottle. The closing price was $133,000 and with the 15 percent buyer premium was $152,950
Bottle collectors are keeping a close eye this week on the current Glass Works Auction sale. The bidding on lot 169 has exceeded $100,000 and could double that amount.
The battle is on for a perfect example of a Columbia / Eagle flask from Kensington Glassworks in Pennsylvania. It is one of three known examples in cobalt blue.
Here is a direct link to the auction lot:
http://www.absenteeauctions.com/glassworks_catalog_2/cgi-bin/SHOWITEM.CGI?itf=169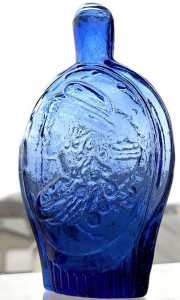 ---
Up for auction at Skinner Auctions on March 1st is a bottle which, in form, is well known to bottle collectors. It is a black glass ale bottle of about 9 inches in height dating from the late 18th century or thereabouts. Nothing too unusual – you can buy one without a whole lot of difficulty for $100-150.
Then there is Lot 5 in the Skinner sale.
Thanks to more than a little bit of provenance and connection to our first president, Skinner has placed a pre-sale estimate of $10,000 to $15,000. I am sure many collectors will be interested to see where the bidding ends.
Affixed to the bottle is a label bearing the text,

Washington Wine
Imported in 1792
Rebottled in
1840

View the lot directly at the Skinner website.
---