As you know, many of the bottle auctioneers use the same online auction format created by a company called Real Time Auction Method. Their auction presentation is rather basic and somewhat dated, but it works well, and I believe auctioneers and buyers alike benefit from using a common format.  One key shortcoming however is the inability to get or send a link of a particular page of listings, a particular auction item or search results.  Some times it is helpful to be able to send such links to friends.
How to Create Links to Specific Auction Items
The auction links begin usually with http://www.rtam.com/
Specifically, Glass Works Auctions often has the auction URL of http://www.rtam.com/glassworks/cgi-bin/catalog.cgi
In this same auction, the link to ANY given individual item would be http://www.rtam.com/glassworks/cgi-bin/SHOWITEM.CGI
The problem is how to send someone a link to a particular lot.  Let's say you want to tell a friend about lot number 35.  Here is a little secret to show you how it is done.  Add "?itf=" followed by the lot number.   So, for example, we have:
http://www.rtam.com/glassworks/cgi-bin/SHOWITEM.CGI?itf=35
for lot 35.  Not too difficult.  Make sure not to leave out the question mark and do not include spaces.
Creating Links to a Keyword Search Within An Auction
If you are still with me (you are, aren't you?) then here is another example of a convenience link.   You can also send someone a link to search results within an auction.  The link structure is similar.  In this case, the URL begins with:
http://www.rtam.com/glassworks/cgi-bin/CATALL.CGI
Notice that CATALL.CGI is all capital letters, just like SHOWITEM.CGI.  It is essential to keep the link exactly how the same including caps.
If you want to send someone the search results for "mineral water" then the link would include ?mch= followed by your search words (without quotes)  Here is an example
http://www.rtam.com/glassworks/cgi-bin/CATALL.CGI?mch=mineral water
Creating a Link to a Specific Page of Items Within an Auction
Lastly, we might want to create a link to a specific page of auction listings, for example, lots 121 through 135.
In this case, we would create a link like this:
http://www.rtam.com/poletop/cgi-bin/CATALL.CGI?st=121
We call the same page, CATALL.CGI, but pass a different parameter called "st".  You can use any number from 121 to 135 to call this page.  Regardless of the number in the interval, it will always take you to that page of listings.
— Created 09/09/10
— Updated 09/20/10
---
New auctioneer ABCR Auctions, based out of Victoria, Australia, is kicking off their efforts with a first auction which closes August 1, 2010.
Amongst the 238 lots in the first auction, some items that may be of interest are:
Lot 107 – Miniature Pedestal Oil, a super rare piece in aqua (only one known to us in this miniature size)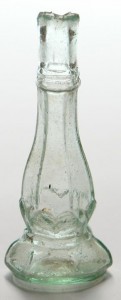 Lot 113 – Abbey Mustard, an English item of worldwide appeal. These were exported around the world in the mid 1800's, this example being found in Australia
Lot 140 – Rosebud Butter Jar, an unusual shaped butter jar which is an extremely rare piece for the discerning jar collector
Lot 175 – Green Warners Safe Cure, this four cities double collar type Safe Cure is distinctly green as compared to the normal amber variations, not the usual dark green of the London or Frankfurt varieties, it is somewhere in between.
Lot 197 – Jules Hauel Bears Grease, a classic piece from a famous perfumer who exported many goods right around the world. This is one of many quality potlids to be found in the sale.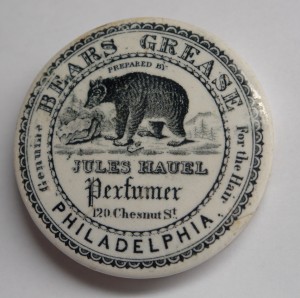 Lot 216 – Boston Hop Bitters, an AUSTRALIAN bitters, this is one of many Australian bitters found that have US names associated with them. Thought to be so named to cater for the swelling American population at the time. A rare bottle, this has some damage but is a nice looking example.
Visit their web site or go directly to the online auction for viewing and bidding.
---
Glass Works Auctions closed up their summer sale on July 17th of 389 lots. Typically, the mid year sale does not contain their best offerings – this sale was an exception with a number of top notch items in several categories.
The highlight of the sale was undoubtedly Lot 119, a clear (amethyst tint) figural BROWN'S / CELEBRATED / INDIAN HERB BITTERS brought $20,000. Thought to be one of only 3 examples, this rare bottle was recently found at a yard sale in the Seattle, Washington area. Most are familiar with the not uncommon amber "Indian Queens" but other colors are scarcely seen.
Lot 1, a F. BROWN DRUGGIST bottle in emerald green with open pontil brought $6,000 despite cracks around the pontil scar. This bottle is noted by the auctioneer as unique. The description also states that Frederick Brown ran a drug store at the corner of Chestnut and 5th Street in Philadelphia and later became famous for his F. Brown's Essence of Jamaica Ginger. The Jamaica Ginger bottles are quite common and known to most every bottle collector.
Lot 2 was a beautiful deep emerald green DR GUYSOTT'S – COMPOUND EXTRACT / OF YELLOW DOCK – & SARSAPARILLA in perfect condition which closed at $5,000, a strong market price indicative of the overall auction results. Recession, what recession? There seems to be no decrease in antique bottle prices, except at the very low end (below $100) of the market.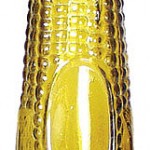 The sale included a good number of aqua pontil medicines which fared well. Also of note was the great offering of mineral waters from the Robert 'Bob' White Collection. A yellow olive Hanbury Smith NY (Tucker M-20-A) mineral water brought $1900, a blue green Deep Rock Spring quart (N-13-A) formerly in Norm Heckler's collection brought $2000 and a GARDNER & LANDON / SHARON / SULPHUR WATER in olive brought $2750. Mineral water bottles, at least the good ones, are alive and well.
The sale also included six Willington, Connecticut cathedral pickle jars, included a damaged example of the large mold in the extremely rare olive amber color. Prices ranged from $2300 for an example in greenish aqua to $3500 for the aforementioned olive amber piece to $5500 for a perfect condition large mold example in cornflower blue.
Perhaps the only bargain of the day was the sparkling perfect yellow National Bitters which closed at just $2400, well under its estimate. Overall, it was however a strong sale.
Prices quoted do not include the 15% buyers premium.
---
Two rare McKeevers Army Bitters turned up on ebay this week. Both were reported to be in mint, undamaged condition. The first, which closed on July 4th, brought $3301 and was auction # 190409345590. The seller was from the Atlanta, GA area.
The second example (auction # 320557162981), offered by a seller in Cleveland, OH, didn't fare quite as well and brought just $2500 $3250. Although the bottle seemed just as fine as the other, sellers may have been scared off by a few negative marks on the seller's feedback record. So goes the auction world.
For all you non-collectors out there, beware of a similar bottle marked McGiver's American Army Bitters and is also marked Wheaton, NJ. These are found in amber as well as pale blue and green. Wheaton Glass Works produced these modern re-creations in the mid to late 20th century and they are fairly common. Their value is more in the range of $5-15
Search for McKeevers or McGivers Bitters bottles
on ebay.
---
Not surprisingly, there was tons of interest in this half-pint GII-69 which appeared recently on ebay. The seller, who was from Kansas, listed a number of historical flasks, but this one was by far the best. It exceeded our estimate and may have set an auction record for this mold when it closed at $11.700, the result of 61 bids
View this auction on ebay
or search for other cornucopia-eagle flasks
on ebay
Click on the thumbnails below to see full size images.
[nggallery id=1]
---
This olive green iron pontil NEPTUNE GLASS WORKS bottle got my attention.  I checked with one longtime New Jersey collector and he had never heard of it.
The reverse panel is marked CROWLYVILLE N.J.
Medicine? Whiskey?  What do you think?
It recently brought $3,049.99 on ebay.
---
A vintage clothing dealer on ebay created quite a stir by auctioning a most unusual cathedral pickle bottle with iron pontil mark.  The 8-3/4″ example in a very rare olive green coloration closed at $11,100 thanks to 61 bids from 23 bidders.  We contacted the seller who indicated that he recently bought the bottle as part of a house clean-out in central Connecticut.
Look at cathedral pickle bottles for sale on ebay.com
We thought, when first seeing the thumbnail image online, that it was the work of Dog River Glassworks, the now defunct manufacturer of reproduction bottles.  On examination of the photos, it quickly was apparent that this was no reproduction.  We spoke with one longtime collector who commented that he had not seen one offered for sale in over 25 years.
---
Bols Ballerina bottles were made in the Netherlands from 1957 through 1978. They are not exactly uncommon – they were made by the tens of thousands per year! This decanter features a dancing ballerina who dances to the tune of The Skater's Waltz or Le Bleu Danube.
It seems like lots of people are looking for the value of these bottles since many were given as gifts and keepsakes. I recently ran a search of completed auctions on ebay.com and found the following:
Empty bottles in good condition sell in the $5-10 range.
Full bottles sell in the $50 to $100 range. The price varies depending on whether they are still sealed and whether you have the original box and it is in good condition
Forget about damaged pieces. No one wants them
---
27 bids brought this lovely cobalt Louisville Eagle flask up to $3801.  It was clear from the seller's description that they had NO idea what they had!  Guess they were surprised that this antique bottle brought that much.
In this case, the clear photos which appear to show the color with precision really helped buyers overcome any doubts about that the seller might not be accurately describing the item (not intentionally but because they are not a collector)
We suspect this bottle would have sold for more if offered via one of the auction houses such as Heckler's or American Glass Gallery.  It is a simple fact that buyers want the confidence that comes from buying from an auctioneer who describes the condition and the color with accuracy.
Louisville Eagle flask auction on ebay
---
Recently, this ACL soda (that's Applied Color Label for those new to bottle collecting) from the 1940s or 1950s brought a generous $305. When I say generous, my bias is showing: I have a hard time accepting bottles of this era as ANTIQUE. It's not just that they do not fit the dictionary definition of antique, but perhaps just because they join most bottles of the 20th century as machine manufactured. Long live the Luddite, and praise the men who hand crafted glass in earlier days.
Back to 2010. While most ACL soda bottles will cross the $30 mark, occasionally they bring a good bit more. Of course, as always, condition is of utmost importance, and this one is all clean, sheen and pristine. But that is about it – otherwise it is fairly plain jane, so look twice before you recycle them.
Perhaps someone can fill me in on the record price for an ACL soda?
Look to the SODA FIZZ web site for more information on the ACL soda craze.
Piedmont Pale Dry Ginger Ale bottle auction
Search for ACL soda bottles on ebay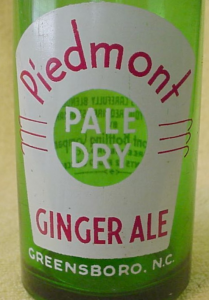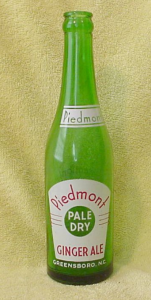 ---