It is not often that such a great assembly of rare bitters and whiskey bottles end up in the same room.  A collector needs to spend decades putting together a top-shelf collection.  Bob Ferraro did just that, putting together a grouping of great bottles, many of which are rarely available for sale.
Glassworks Auctions recently sold the Ferraro collection in a three-part auction, the final section closing on January 9th.  A total of 141 lots racked up a total of $482,305 not including the auction house buyer's premium.
Bitters bottles comprised the top three lots.
Part 1 – Lot 4: A Crow's Celebrated Tonic Bitters, thought to be the only known example – $20,000
Part 2 – Lot 82: Saphire blue W. Wolf Pittsburg barrel.  One of two known examples. – $20,000
Part 3 – Lot 114: People's Favorite Bitters barrel with diagonal rings.  This example, with a great provenance, is thought to be the best of the 3 or 4 known.  It closed at $30,000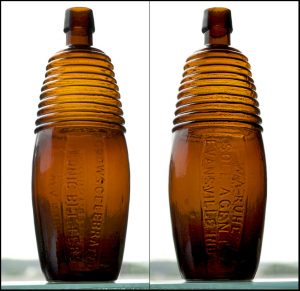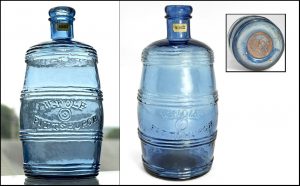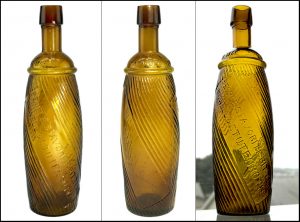 One could go on endlessly about the quality of many lots in this sale.  A stunning brilliant yellow olive figural Fish Bitters with Carlyn Ring provenance swam away at $5000. An authentic, original E.G. Booz cabin whiskey bottle brought a very strong $4750.
There were several dozen barrel bitters in total, many in rare and unusual colors. Lot 50, a Bourbon Whiskey Bitters described as a light pinkish topaz closed at $4250. A Roback's Stomach Bitters in a highly unusual and rare olive green coloration undoubtedly say strong bidding, ending at $13,000. However, perhaps the barrel highlight of the sale was the Highland Bitters and Scotch Tonic of lot 107. In a rare and unusual deep but translucent olive green, this barrel rolled up to a $13,000 closing price.  The 13,000 dollar mark could represent a record or near-record price for a barrel bitters.
Lot 114, the Peoples Favorite Bitters, is an extremely rare barrel mold with diagonal ribs on the body reminiscent of the George Eagle soda bottle. It is an ex. Carlyn Ring bottle and its provenance helped drive it up to a closing price of $30,000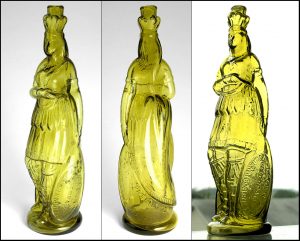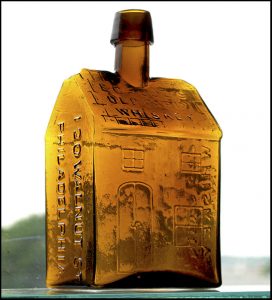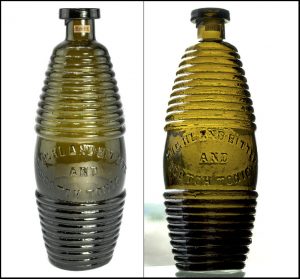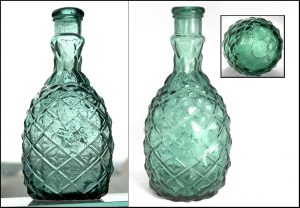 Prices Realized Lists
We captured the Ferraro prices realized lists from all three parts of the sale after bidding and callbacks had ended, and have posted these here on the site in PDF format.  Note that the prices do not reflect the 15-18% buyer's premium.