I was recently talking to a friend who has used ebay for over 10 years but had no idea how to look at completed auction results. This was a big surprise to me since I thought everyone used this feature. Perhaps some of you are unaware of it.
Yes, there are millions of active listings out there, but many close without a sale so they are not a good barometer of what your antique bottle is worth. Instead, look at completed auctions that have actually received a bid. This gives you an idea of what people are actually paying.
Remember that a single auction does not "make" the value of any item. Some auctions close high, others low. By piecing together the details of a group of auction results for similar old bottles, you can get a sense for your bottle's market value. Remember also that condition and quality pay a big role in the value of bottles. If the process leaves doubts in your mind, get an appraisal from an experienced collector/dealer.
Here is how to research antique bottles values on ebay:
1. First, you need an ebay account. Ebay requires this to browse their completed auction results. There is no way around it, so sign up for an account now.
2. Perform your search as you normally would:

3. Now scroll down on the page looking at the left column. Tick off the checkbox option for "Completed listings"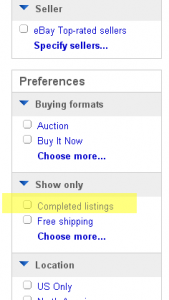 The checkbox will stay selected as you continue to search.
Get started now.