I stumbled upon a straight roof Clevenger EG Booz bottle on ebay this week – this is a classic Clevenger piece that is fairly faithful to the original and looks genuinely old. The experienced collector, however, knows to look for the details that distinguish it from the originals.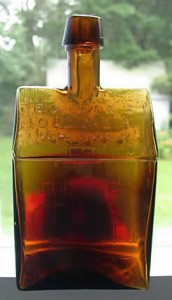 Do you have an original EG Booz bottle? It might just be one of the 31 different reproduction molds documented by Tom Haunton in Tippecanoe and E.G. Booz Too! – A book about cabin bottles Tom's book (available now only on CD) describes each in detail and the book is richly illustrated throughout. He even went to the effort of assigning a McKearin classification number to each mold.
Search for EG Booz Whiskey bottles on ebay – you can get a good idea what different variants are selling for by examining the auctions, especially by searching completed auction results.