I still had not gotten over the breathtaking BLUE pickle bottle that turned up on ebay

recently (item #230778721478) and I thought that could not be topped. But wait! Someone in Florida lists their multi-decade collection of cathedral pickle bottles and the bidding rightly took off to 15 grand. There is simply an amazing lineup of strong colors and a few extra-tough-to-find examples. You will notice there is a bit of damage on some pieces but that is to be expected when you assemble 61 bottles of this caliber.
See auction #320899828111
to view the lot of 61 pickles (closes May 13, 2012) or view all current ebay auctions for cathedral pickle bottles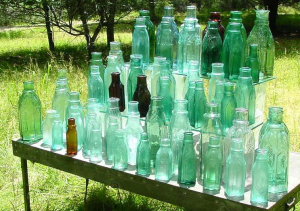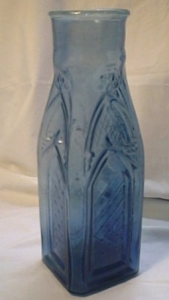 Back to that blue cathedral pickle that turned up on ebay – it brought a well-fermented price of $16,200. Remember, this is a smooth base bottle – no pontil. It is no record, falling quite a bit short of the ~50 grand paid for an amber Willington pickle about 10 years ago.