ABCR Auctions will be conducting Auction 4 from April 23rd to May 7th. They are now one year into the auction business, with a positive response from collectors right across Australia and from international locations.
Auction 4 contains 254 lots. The theme of this auction would have to be chemist related items, we have a number of Australian branded chemist bottles, as well as a superb small collection of tooth paste and ointment lids. There are a couple of enameled cobalt chemist poison bottles which are of reasonable significance, lot 209 is a Cannabis bottle, Lot 210 is a Chloroform example.
A few other items of international interest are as follows:
Lot 70: Dark Brown Dakin Brothers of China torpedo / Hamilton bottle. Whilst it states China, these are an English bottle that are super rare, possibly a unique colour for a torpedo.
Lot 110: There are a number of baby feeder bottles in this auction, this lot is the finest of the lot. A ceramic blue and white printed baby feeder in original, undamaged condition. Most of these are repaired in one way or another.
Lot 141: Although this is an Australian bottle, this is a unique piece. Rosella banded jar, this little piece is from a large Melbourne company whose bottles are very common in general, this particular example is not. This is the first of these publicly auctioned.
Lots 145 to 147: Selection of pratt jars. These three early pieces are fine examples of early colourful Prattware.
Lot 150: Of particular interest to Fruit Jar collectors around the world will be this Orchard Fruit Jar. This is a variation that has never been seen by jar collectors that ABCR staff have spoken too.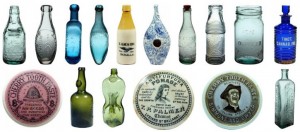 Lot 198: Hallam Sydney amber chemist. ABCR has a fine selection of coloured chemist / poison bottles in this auction. This example is another bottle that has never been seen by collectors before!
Lot 218: Lazarus Bros Magpie Brand phenyle / poison bottle. Phenyles are a popular bottle in Australia, this is by far the pinnacle with the fantastic trade mark of a Magpie. This is an extremely rare bottle as well.
Lot 230: Simmons and Dwyer Tooth Paste Lid. What a classic! Known as the "Laughing Parson", this has to be one of the finest pictorial pot lids in the world. Some viewers may recognize the resemblance to the infamous HA HA Quaker Man.
Lot 235: Unique neck sealed bottle. This embossed bottle from Bordeaux is an unusual piece with a seal on the neck of the bottle!
Lot 240: Super rare sealed gin bottle with a Polar Bear on the seal. This is attributed to Van Meerten & Zonen. One of a few beautiful gins in this auction, we also have a pinch-waisted Bols gin and a H H S & Co Imperial Gin which is an American bottle.
As per usual, there is a huge range of items on offer, the catalogue is now up for viewing at http://www.abcrauctions.com