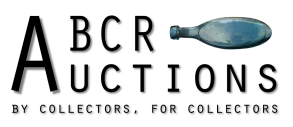 New for 2010 is ABCR Auctions based out of Victoria, Australia.
I exchanged emails with Travis Dunn who, along with partners Simon Cronk and David Bruce recently started their auction to focus on Australian bottles and related antiques.
—
The hobby of antique bottle collecting in Australia has been evolving for many years. We are now beginning to see second generation collectors enter the hobby, in some cases third generation collectors are as can as the older collectors were decades ago when bottle collecting began in Australia.
Three second generation collectors in Dave Bruce, Simon Cronk and Travis Dunn have pooled their knowledge and experience in various fields to start up a new business dedicated to collectors of antique bottles in Australia (and throughout the world) – ABCR Auctions.
This new service (www.abcrauctions.com) is a full absentee bidding auction using the same software that is used for a number of US Auctioneers selling antique bottles, and so it will be in a format that is easy to use and to understand.
ABCR Auctions has secured for auction the collection of Wayne Harris. Wayne is a prominent collector in Australia who has amassed a collection in excess of 25,000 bottles over a forty year period. Bottles from all over the world in a range of fields. Wayne has the finest collections of Warner's bottles around, a superb collection of poison bottles, the best fruit jars seen in Australia, by far the best collection of Bitters bottles in Australia, the best collection of goldfields food bottles (many of which are of American origin) amongst many other items. ABCR Auctions also accept items from other vendors, over time there will be an item of interest for almost every collector out there.