I have always loved this bottle ever since I saw the one a friend of mine found one at a Long Island antique shop years ago for $15. Some years later I got to handle the (unique) pitcher made from this mold which is pictured in McKearin's AMERICAN GLASS and I was hooked.
The bottle is no doubt unique in the antique soda bottle world with its diagonal ribbing. What lends to the design also makes it fragile; all that ribbing is easily bruised.
This past week I noticed a nice clean example of this bottle turn up on ebay. The auction is still running today but closes soon. Current bidding is at $2100. Catch it while you can
– this is a scarce bottle.
UPDATE, December 2011.
Glassworks Auctions just sold an example in remarkably mint condition for $4250. This price does not include the 15% buyers premium; apply some quick math and you get a total price of $4887.50. Here is a direct link to the auction result, although this link will probably not be valid for more than a few weeks. Lot 189, Glassworks Auction #93
Believe it or not, this is not a record price for this bottle. Chuck Moore auctioned one in the 80s or 90s which was thought to be the darkest example known and was exceptionally mint. I believe it brought around $5500. That bottle has since resold for considerably less – some believe the lip was buffed to hide a chip.
---
A rare-colored USA Hospital bottle recently turned up in ebay, creating quite a bidding frenzy. The 3″ tall deep puce cylinder closed at $732 thanks to plenty of bidding. This example did appear to be dug, had weak embossing and a minor lip flake but rightly had lots of interest. We do feel if the color had been lighter and this had otherwise been a choice example that the selling price would have been much higher.
Bottles marked with "USA Hosp. Dept" or "USA Med'l Dept" are believed to have been produced during the Civil War for carrying medical liquids. Research by bottle collector and Civil War researcher Mike Russell suggests that these bottles were made at Baltimore, MD; Pittsburgh, PA and possibly St. Louis, MO glass houses.
These bottles are often found in clear and aqua but are scarce and highly prized by collectors in the many other colors in which they were made, especially cobalt blue, shades of amber, yellow, olive and other greens. The puce colored example is a rarity indeed; while it may not be unique, we do not recall seeing such an example in several major collections which have sold in the past 20 years.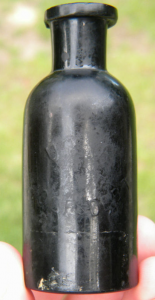 ---
The Wisharts Pine Tree bottles have always been one of my favorites. Over the years, I have acquired a number of really great examples.
It is a good example of an antique bottle that has many variations:
– a scarce/rare open pontil variant
– earlier examples in two distinct sizes
– a rare variant with the date missing
– a later tall, large size bottle found almost always in amber
– colors include emerald green, olive green, amber, tobacco amber, blue (rare), aqua, pale green
Value as always depends on condition, the depth and tone of the color and the mold variation.



---
ABCR Auctions will be conducting Auction 4 from April 23rd to May 7th. They are now one year into the auction business, with a positive response from collectors right across Australia and from international locations.
Auction 4 contains 254 lots. The theme of this auction would have to be chemist related items, we have a number of Australian branded chemist bottles, as well as a superb small collection of tooth paste and ointment lids. There are a couple of enameled cobalt chemist poison bottles which are of reasonable significance, lot 209 is a Cannabis bottle, Lot 210 is a Chloroform example.
A few other items of international interest are as follows:
Lot 70: Dark Brown Dakin Brothers of China torpedo / Hamilton bottle. Whilst it states China, these are an English bottle that are super rare, possibly a unique colour for a torpedo.
Lot 110: There are a number of baby feeder bottles in this auction, this lot is the finest of the lot. A ceramic blue and white printed baby feeder in original, undamaged condition. Most of these are repaired in one way or another.
Lot 141: Although this is an Australian bottle, this is a unique piece. Rosella banded jar, this little piece is from a large Melbourne company whose bottles are very common in general, this particular example is not. This is the first of these publicly auctioned.
Lots 145 to 147: Selection of pratt jars. These three early pieces are fine examples of early colourful Prattware.
Lot 150: Of particular interest to Fruit Jar collectors around the world will be this Orchard Fruit Jar. This is a variation that has never been seen by jar collectors that ABCR staff have spoken too.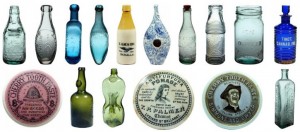 Lot 198: Hallam Sydney amber chemist. ABCR has a fine selection of coloured chemist / poison bottles in this auction. This example is another bottle that has never been seen by collectors before!
Lot 218: Lazarus Bros Magpie Brand phenyle / poison bottle. Phenyles are a popular bottle in Australia, this is by far the pinnacle with the fantastic trade mark of a Magpie. This is an extremely rare bottle as well.
Lot 230: Simmons and Dwyer Tooth Paste Lid. What a classic! Known as the "Laughing Parson", this has to be one of the finest pictorial pot lids in the world. Some viewers may recognize the resemblance to the infamous HA HA Quaker Man.
Lot 235: Unique neck sealed bottle. This embossed bottle from Bordeaux is an unusual piece with a seal on the neck of the bottle!
Lot 240: Super rare sealed gin bottle with a Polar Bear on the seal. This is attributed to Van Meerten & Zonen. One of a few beautiful gins in this auction, we also have a pinch-waisted Bols gin and a H H S & Co Imperial Gin which is an American bottle.
As per usual, there is a huge range of items on offer, the catalogue is now up for viewing at http://www.abcrauctions.com
---
Bottles from California have long been a hot commodity in the bottle collecting world, especially those dating from the earlier years of settlement in the 19th century. You will find plenty of examples as their age gets closer to 1900 (and beyond) but there are plenty of rare examples throughout the 1850-1900 era. Stumble across the right one and it could be worth hundreds or many thousands.
In the bitters department, there is the famous Dr. Henley's California IXL Bitters which is found in a number of colors right on down to more common square-bodied amber examples such as the STAR KIDNEY & LIVER BITTERS bottle.
California bottles fall into the larger category of "western bottles" as collectors like to call them.
You will find hutch sodas, druggist bottles, medicine bottles, bitters and of course plenty of whiskey fifths and quarts. Here are some currently at auction on ebay:
---
An seldom seen J.T. Wiggins Gentian Bitters recently closed on ebay for $3,831.94. This square amber bottle has unusual mold features which give the corners a classical column-like appearance. The bottle was in good shape but did have a small bruise/chip at the base.

You can see this auction on ebay via this link. 110605888371
---
A friend of mine sent me a photo of a brick building on Greenwood Ave. in Brooklyn, NY which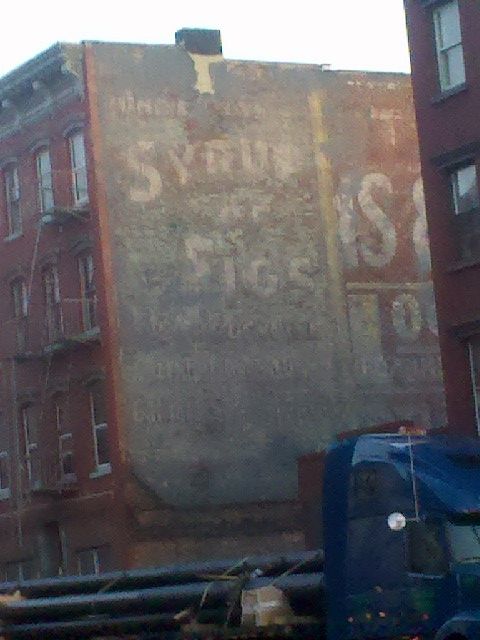 reminded me a of an old garbage dump that a friend of mine and I dug back when we were teenagers – it must have contained dozens of these bottles.  We wrapped them all up in boxes and toted them home on our bikes only to discover that they were not worth much of anything.  Such was bottle collecting for us in the 1970s! One thing for sure: these California Fig Syrup bottles are darn common and must have been produced in abundance.
I always remember the house however. It was a very early 18th century small gambrel roof building of perhaps 1200 sf which, unlike most places where we lived in Connecticut, had avoided the wrath of home renovation (read: McMansionification) until very recently. Thankfully, the original house was spared but a huge trophy mansion of 10,000 sf was "added on" to the original. So much for that little time capsule from a day of greater wisdom and sensibility.
Here are a collection of photos of California Fig Syrup bottles and related advertising.  Stop by ebay to see the current offerings of these bottles and ephemera – you will find a number of items at very affordable prices, ie most under $10.00.
[nggallery id=3]
---
A surprise ebay auction this past week served up a honey amber GI-94 flask which closed at a record price for this mold – $28,334.  The flask is marked with   BENJAMIN FRANKLIN and his bust on the front and T.W. DYOTT, M.D. along with WHERE LIBERTY DWELLS THERE IS MY COUNTRY / KENSINGTON GLASS WORKS PHILADELPHIA along with Thomas Dyott's bust on the reverse.  This pint flask is not a rare mold but this color is not often encountered.  We believe this to be a record price for this mold by a very long margin.
See the auction of this flask
here.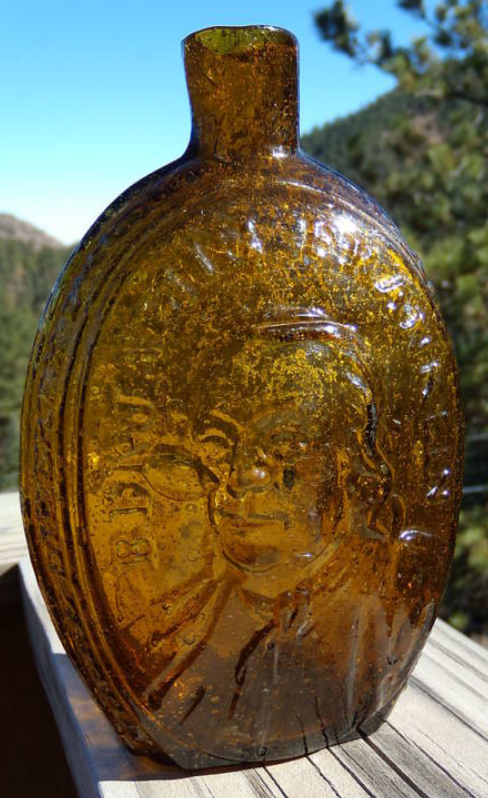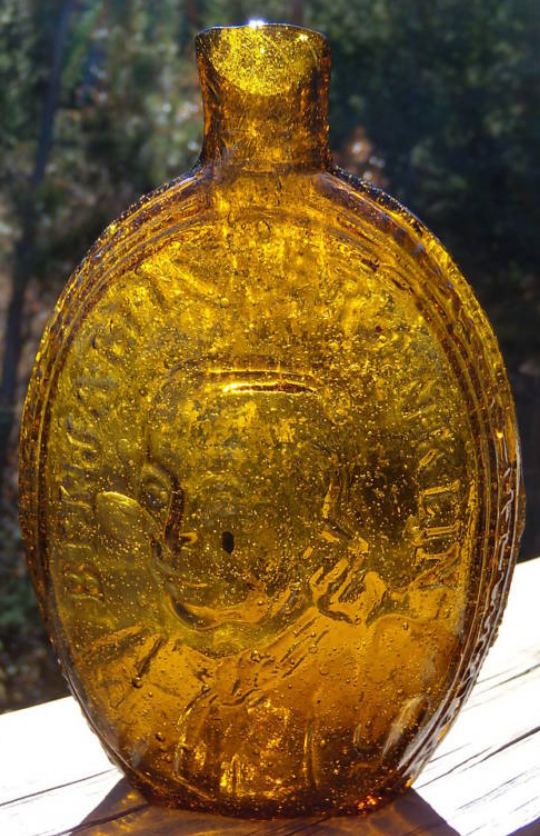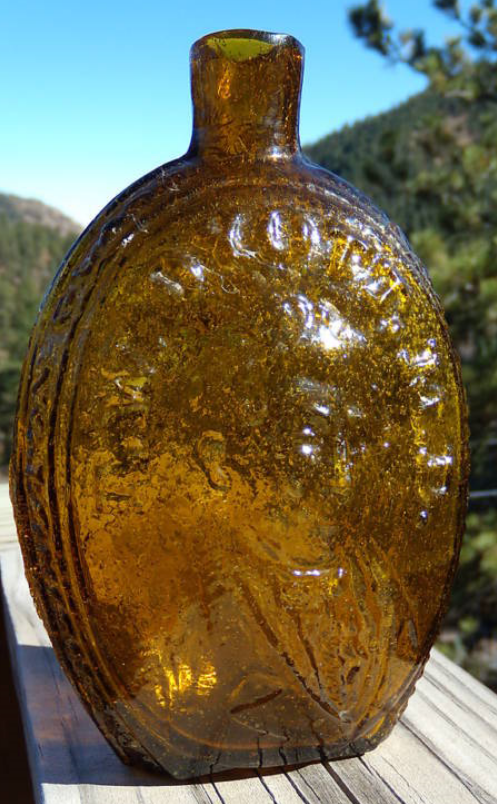 ---
This emerald green C HEIMSTREET TROY NY / SODA WATER early tapered collar soda with iron pontil brought $3,419.69 recently at an ebay auction.  Most collectors will know the name from the popular sapphire blue hair bottle with the same embossing.  The auction description seemed to suggest that this is a fresh discovery and not from a collection.
I was not aware of the existence of this bottle.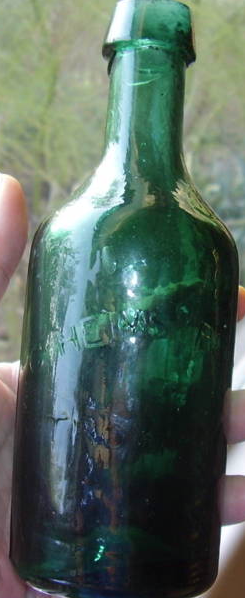 ---
A recent ebay auction of a WH Ware Fish Bitters brought a final hammer price of $9099.99 on September 39th. 42 bidders battled for the catch.
The seller, from Maryland, said he purchased it from a local estate sale where it had been in a long time bottle collection for decades.
[nggallery id=2]
The Fish Bitters bottle is found in 3 mold variants and are listed as F44 through F46 in the Ring / Ham reference book. The bottle is of course common in amber but darn scarce in aqua, clear, yellow green, yellow olive, lime green and reddish puce. The cobalt blue example, which sold privately in 2009 for an alleged 6-figure price, is thought to be unique.
The bottle was patented in December 1866 by WH Ware (Design Patent 2522). Ware and Schmitz and later W Harrison Ware were in the wholesale whiskey business from 1870 to 1884 in Philadelphia. See pre-pro.com for more info. This company also produced the
Van Dunck's Genever figural bottle known as the "Coachman"
American Bottle Auctions sold a clear mint example in 2007 for $14,000.
---